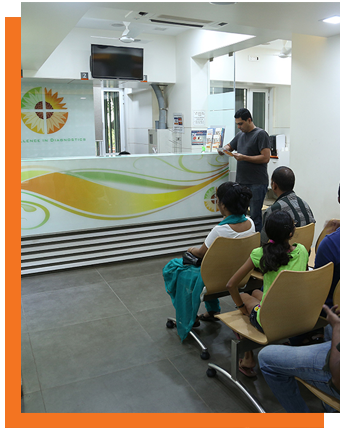 Introduction
Sunflower Laboratory and Diagnostic Center was established in 1998 by Dr. Vipul B. Patel, M.D. (Pathology) and Dr.Darshana V. Patel, (MBBS) with the aim of providing high quality diagnostic service to North-Mumbai. It has been designed using principles of "Good Laboratory Practices "and "Lean Concept", with an optimal utilization of space and efficient work flow.
Our center is a prime example of world-class independent diagnostic facility in India with more than 23 years of experience in providing quality diagnostic services and performing more than 400000 tests/year. We are equipped with a range of more than 50 fully automated diagnostic equipment having capacity of performing more than 3000 tests/hour. This combined with a well-trained and experienced team we assure our clients high-quality diagnostic service.
Our Diagnostic center is a 5000 square feet area, state of the art diagnostic facility with NABL Accreditation (National Accreditation Board for Testing & Calibration Laboratories) conveniently located on Marve Road, a main arterial road of Malad-West. Our center is easily accessible from both S.V. Road and Link Road the two important arterial roads of North Mumbai.
Multiple Diagnostic Services Under One Roof
Our center provides more than 1500 different test services in-house which include:
Preventive Health Check-ups

Pathology Lab test service

Microbiology Lab test service

Cancer Screening test service

Hormone and Immunoassay test service

Radiology Centre with Digital X-ray, Ultra-Sonography

Cardiology tests including ECG, Color Doppler, 2-D ECHO-cardiograph

Molecular Lab test service
Experienced and Dedicated Team
Our center is managed by a experienced team of six doctors including
Consultant Pathologist, (M.D)

Consultant Microbiologist, (M.D)

Consultant Radiologist, (M .B.B.S., M.B.,D.M.R.E. ),

Consultant Cardiologist, (M.D.),

Lady Physician, (M.B.B.S)

More than 30 lab technologist, X-ray technicians, Nurse etc.
Dependable test results
With our experience, expertise and good instrumentation we have set a benchmark in quality of test results. The Laboratory regularly participates in Internal and External Quality Assurance (EQAS) Program and NABL (National Accreditation Board for Testing & Calibration Laboratories) accredited.
Latest Technology
Our center uses more than 50 different New Generation Instrument Platforms to perform various categories of tests. The Center has adapted the latest technology on offer, for all its major services.